Indoor Air Quality Scientific Findings Resource Bank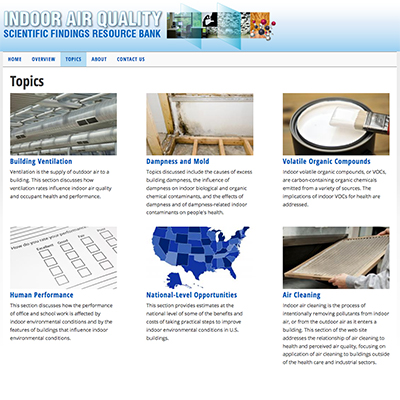 With support from the U.S. Environmental Protection Agency, the Indoor Environment Group has developed a web site called the Indoor Air Quality Scientific Findings Resource Bank that is used as an educational resource in university and private sector classes on indoor air quality. The web site is also designed to be a resource with information and algorothms to guide decisions made by building designers and operators.
The site focuses on the effects of indoor environmental quality parameters on people's health and performance. When possible, quantitative relationships are developed and provided on the web site after publication in journals.
Currently the web site has sections on building ventilation, dampness and mold, work and school performance, volatile organic compounds, benefits of improved indoor environmental quality, air cleaning and the relationships of climate change with indoor environmental quality.
Contact
Important Links
Indoor Air Quality Scientific Findings Resource Bank: iaqscience.lbl.gov
Indoor Environment Group: indoor.lbl.gov