Research at the Intersection of Science, Technology, Policy and Economics
We conduct research on energy consumption and related impacts to inform policy, standards, and decision-making for the benefit of society and the environment
The BETTER Team - Carolyn Szum, Han Li, Chao Ding, Nan Zhou and Xu Liu (pictured left to right) won a 2020 R&D 100 award in the Software/Services category and the 2020 Berkely Lab Director's Award for Exceptional Achievement in Tech Transfer.

For more than 50 years, the annual R&D 100 Awards have recognized 100 technologies of the past year deemed most innovative and disruptive by an independent panel of judges. The full list of winners, is available at the R&D World website.
The Berkeley Lab Director's Awards program recognizes significant achievements of Lab employees. Each year, these awards are given for accomplishments, leadership, collaboration, multi-disciplinary science, cross-divisional projects, and commitment to excellence in support of the Lab's mission and strategic goals. 
Read the full article: energyanalysis.lbl.gov/news/article/energy-technologies-area-2020-rd100
Lynn Price, a senior advisor for the Lab's International Energy Analysis Department, received a Lifetime Achievement Award for "a career marked by extraordinary global outcomes, most notably the design of innovative industrial energy efficiency policy in China, as well as her analysis and leadership that contributed to the 2015 Paris Climate Agreement," according to the award citation.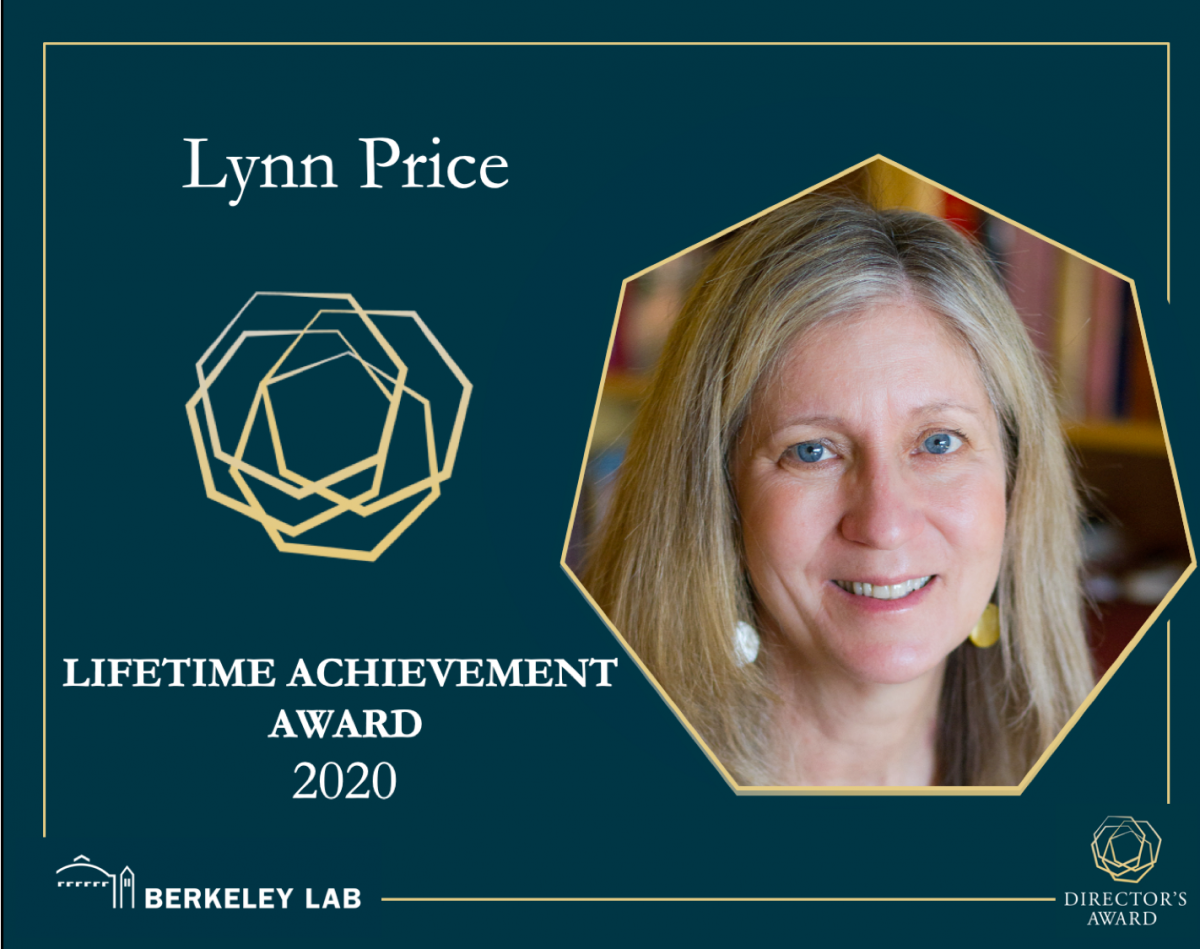 Read the full article: https://recognition.lbl.gov/2020-laureates/lifetime-achievement-awardee-lynn-price/
Inclusion, Diversity, Equity and Accountability (IDEA) Spotlight
EAEI is proud to begin a new spotlight series recognizing exceptional efforts in inclusion, diversity, equity and accountability.  This inaugural spotlight recognizes Stephane de la Rue du Can, a researcher who has been at the lab for more than 17 years studying energy consumption patterns and CO2 emissions mitigation opportunities and providing technical assistance and policy implementation advice  to policy makers in emerging economies.
Stephane de la Rue du Can has hosted several PhD students of African origin for extended periods (6 months on average) and worked with them to provide substantive feedback on their research.
These collaborations have led to the authorship of several journal papers, including these two recent papers:
Sakah, Marriette, Stephane de la Rue du Can, Felix Amankwah Diawuo, Morkporkpor Delight Sedzro, and Christoph Kuhne. "A study of appliance ownership and electricity consumption determinants in urban Ghanaian households." Sustainable Cities and Society 44. January 2019 (2018). https://doi.org/10.1016/j.scs.2018.10.019
Diawuo, Felix Amankwah, Marriette Sakah, Stephane de la Rue du Can, Patricia C Baptista, and Carlos A Silva. "Assessment of multiple-based demand response actions for peak residential electricity reduction in Ghana." Sustainable Cities and Society 59 (2020) 102235.
Stephane is also a mentor volunteer in the TechWomen program, which brings emerging women leaders in science, technology, engineering and mathematics (STEM) from Africa, Central and South Asia, and the Middle East to the Bay Area for 6-week visits. Stephane served as a professional mentor and co-hosted four emerging leaders through the program in 2018 and 2019. 
TechWomen at Berkeley Lab: https://eta.lbl.gov/news/article/tech-women-berkeley-lab
U.S. Department of State's Bureau of Educational and Cultural Affairs TechWomen program: https://www.techwomen.org/