Energy savings programs offered by utilities—from residential lighting and appliance rebates to programs for small businesses—help ensure reliability on the grid at the most affordable cost, according to a comprehensive study just released by the Electricity Markets & Policy Group at Lawrence Berkeley National Laboratory.
"At an average cost of just 2.5 cents to save a kilowatt-hour, energy efficiency is a good deal for utility customers," said Lisa Schwartz, a principal investigator of the study. "And costs are increasing only at a modest rate." Costs increased 3.5% a year for the utilities with complete data for the study period, on a savings-weighted average. Looking at the mean across individual utilities, she said, the increase is far less—just a fraction of a percent per year.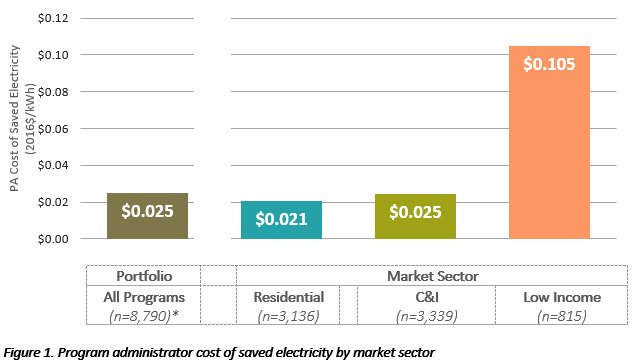 The study is the most comprehensive look yet at the cost performance of energy efficiency efforts funded by utility customers, spanning 8,790 programs across 41 states between 2009 and 2015.
Costs tend to decline as utilities with less mature programs gain experience and economies of scale, Schwartz noted, in contrast to larger utilities that already are achieving high levels of savings.
Utilities and states can use the data in the report to compare the cost performance of their programs with others in the same region and in other regions, so they can get a sense of where costs may be heading as they reach toward higher efficiency targets. "It's also important to understand how programs may need to evolve with new federal standards for lighting—a driver of low-cost savings—as well as state actions allowing large customers to opt out of efficiency programs," Schwartz said.
As federal and state efficiency standards require higher performance from lighting products, and improvements in product performance and cost continue, efficiency program administrators may have fewer opportunities to acquire low-cost savings through lighting programs.
Meanwhile, in states that allow large customers to opt out of efficiency programs, fewer commercial and industrial participants could put upward pressure on cost performance of efficiency programs in this sector, as well as on the overall efficiency portfolio.
The cost performance data from Berkeley Lab can also help with projecting efficiency's impact on future electricity loads, comparing costs to other electricity resources and modeling efficiency resources to meet future electricity needs.
Other highlights from the report:
Programs for the residential sector delivered electricity savings at the lowest cost, averaging 2.1¢ per kilowatt-hour (kWh). Lighting programs, averaging only 1.1¢ per kWh and accounting for 45 percent of the sector's lifetime savings, drove these low costs.
Programs aimed at low-income households cost much more—10.5¢ per kWh on average—but accounted for only a modest share of spending (9 percent). Program administrators typically pay the full cost of measures for these programs and often incur costs to address issues related to the poor condition of older homes and health and safety issues (e.g., asbestos removal, old wiring) before efficiency measures can be installed. Low-income programs also often have aims beyond energy savings (e.g., lower energy bills).
Savings from commercial and industrial (C&I) programs cost an average of 2.5¢ per kWh. Three types of C&I programs accounted for 74 percent of the sector's annual and lifetime savings: rebates for custom retrofits, prescriptive measures and new construction. Average values for these three program types ranged from 1.9¢ to 2.6¢ per kWh.
The cost of saving electricity varies significantly by region, ranging from a low of 1.5¢ per kWh in the Midwest to 3.3¢ per kWh in the Northeast.
The report authors are Ian Hoffman, Chuck Goldman, Sean Murphy, Natalie Mims Frick, Greg Leventis and Lisa Schwartz in Berkeley Lab's Electricity Markets and Policy Group.